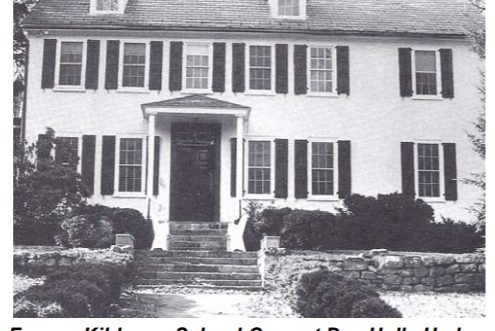 A look back through time to those that have called this property "home".
Holly Hedge Estate is truly a family operation. Joe and Amy Luccarro, former New Hope restaurateurs, operate this property along with their sons.  Together with a team of professionals, the Estate is well known for hosting  wedding receptions and other events in elegant style and has an interesting backstory.
The tale literally begins with William Penn and his famous charter here in the New World.  Conveyed to Brizillion Foster of England in 1682, the original property (over 500 acres) was first developed in the 1780's by the Fell family, whose members constructed some of the buildings standing to this day.
In 1887, William Pearson purchased the grounds for his daughter Ruth and her husband Daniel. Upon Daniels death, the property was sold in 1925 and again 1933.  In 1941 the land became home to Ms. Sarah Mullen Kerney, (widow of the former editor of the Trenton Times, James Kerney). Now it seems Sarah had some grand ideas for the property and installed elegant gardens and wonderful landscaping.  With a knack for the dramatic, Sarah combined her husband's last name with the rambling nature of the property and named her estate Ramblerny. This name would stick for quite some time.
In the fall of 1960, new owners Sam and Florence Snyderman came upon the location and created the New Hope Academy for the Arts. Ms. Snyderman had a rich resume of acting, dance, directing and in her own right.   This new school for resident students (ages 8 to 20) , retained the name"Ramblerny", and opened in the summer of 1961 offering classes in Jazz via The Maynard Ferguson School of Jazz) Music Composition, Dance, Drama and Fine Arts.
The "old barn", now the site of frequent ceremonies and cocktail receptions, was restored, had a stage built and became the "playhouse" for student productions.  A large pond near the entrance of the grounds (now with fountain) and originally a pool, held a stage for outdoor performances for orchestras, jazz ensembles and vocal, and theatrical productions.
A change of ownership in 1964 brought in Ruth and Charles Woodford  (Ms. Woodfords mother had been affiliated with the Juilliard School) and Ramblerny continued its legacy of art and music instruction for another 5 years.  Several rooms of the modern day inn were outfitted as dorm rooms housing students here over the many years of music, art and theatrical instruction. Michael Brecker (later performing with Steely Dan, Billy Joel, Paul Simon, Frank Sinatra and others), was a young saxophone student here under Rambleryn's music director, the world famous saxophonist, Phil Woods.
In 1969 the grounds again changed hands this time to house what would become one of the nation's foremost schools for dyslexic individuals.  The Kildonan School and camp operated on this site for nearly a dozen years until success caused them to search for a larger facility.  Now located Amenia, NY, the school that started here in Solebury continues to be a greatly respected teaching and teacher training institute.
Following the departure of the school, there became the first instance of a B&B on this site featuring lodging and a wedding facility with the existing glass greenhouse serving as the reception site and in 1996 the property was acquired by the current owners. Continuing where the previous operator had left off, they renovated and renamed the property Holly Hedge Estate operating as a B&B and wedding venue. They ultimately pursued construction of a more suitable space (The New Barn) to offer the award winning wedding receptions for which they are well known.
Joe and Amy reside here on the property with the day to day operation now carried out by their three sons, Tim, Ben and Dan Luccaro who continue to receive awards and accolades running a true family operation.
As we move forward in this new century, modern couples are likely unaware that when they exchange their vows, they share the "stage" as it were, with a colorful and rich history of past events that have taken place on this site.
Share It!