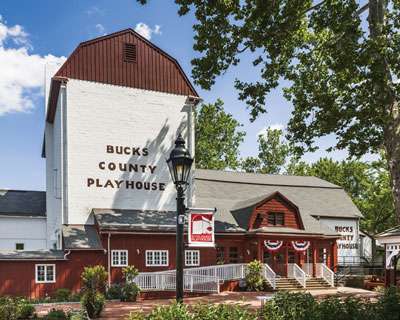 When is the last time you went to a theater? Has it been more years than you'd like to admit? 
Maybe you've missed out on everything there is to love about "taking in a show"?
Reading the reviews, selecting your seats, making the pre-show dinner reservations, and choosing where to go after the show for dessert or drinks to talk non stop about the production from the set, the costuming, and the actors.    
Well, now is the time to get to the Bucks County Playhouse in our beautiful town of New Hope. The Playhouse sits on the banks of the Delaware River at the site of a former grist mill.
Everything about this theater is amazing: the location in the heart of town, the intimate size of the venue, and the great selection of professional productions offered all season long. The newest addition to the Playhouse is The Deck eatery, with spectacular views to enjoy before or after a show. Additionally, the programs for children and the community that are extended by this non-profit theater are countless.
Under the direction of Alex Fraiser, who took the helm in 2014, The Bucks County Playhouse has grown to become a New Hope institution. Alex and his team have worked tirelessly and successfully breathe new life into the Playhouse and downtown.
With 6 months remaining in the 2019 production line-up, there's still plenty of time to get ushered to your seat and enjoy the thrill of live theater at its best. See you at The Deck during Intermission!
PS If you're coming in for a show, why not stay overnight with us right here in town at HollyHedge Estate or the 1740 House? Book your guest room today and we'll give you 10% off your room and a Guest Code to receive 10% off your tickets at the Playhouse. A farmhouse breakfast is included with your stay too.
Share It!