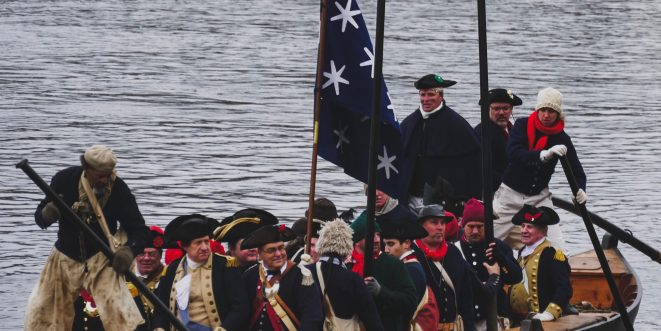 On Christmas Day 2019, thousands of people will gather on the banks of the Delaware River to watch the reenactment of George Washington's daring 1776 river crossing.
That historic event led to the famous BATTLE OF TRENTON and a stunning defeat of the Hessian forces at Trenton.  That one brief battle elevated the moral of the tattered continental army and altered the course of history for our young nation.
YOU DON'T HAVE TO WAIT UNTIL CHRISTMAS…
The first opportunity to witness the reenactment is at the full dress rehearsal on Sunday, December 8th, from 10 AM to 4 PM in the Washington Crossing Park's Historic Village.
The river crossing begins at approximately 1 PM but get there early, even this rehearsal is very well attended. In addition to the reenactment, special colonial-era activities and demonstrations in the Historic Village will offer a full day of family fun and learning. Festivities in Trenton, NJ surround Patriots Week December 26th to 31st.
Here on the Pennsylvania side of the river, you and your family can explore 500 acres of the preserved park, visit the Museum, and view replicas of the Durham boats used during the crossing.
On that fateful night, General Washington enlisted boats of all sizes and types from up and down the river bank. The boats depicted in the famous 1851 Emanuel Leutze painting, and used for the yearly reenactment each measure approximately 40 feet long. Two were built in 1965 and 1976 in Point Pleasant, NJ, by the Johnson Brothers Boat Works. Boatbuilder Paul Rollins of York, Maine, constructed the other reproductions in 1996 and 1997.
Cost is $8 for adults, $4 for children ages 5-11 and free for children younger than 5. Family rate (2 adults and 2 children) is $20. Proceeds from the First Crossing allow us to make the Christmas Day crossing free.
Directions to the event can be viewed here.
Share It!