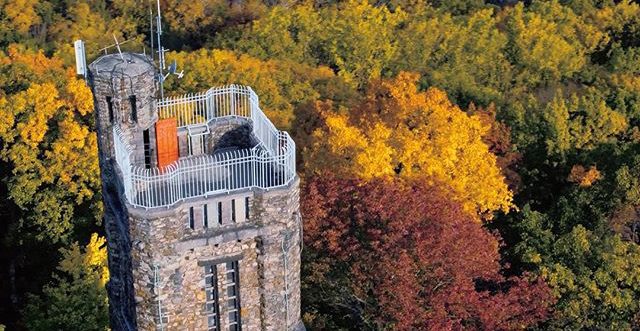 Any season is a good time to climb the fabulous 125 foot Bowman's Hill Tower in Washington Crossing Historic Park, but right now may offer the best and most beautiful views of all.  Picture perfect from the observation level, this season offers a panoramic view of up to 14 colorful miles.
Fun Fact:
Bowman's tower didn't actually exist during George Washington's day, rather it was built of local field stone in 1929 to commemorate what may have been a lookout point for Washington's troops to oversee the vitally important Delaware River.
Construction of the Tower took nearly two years to complete using native stone from the hill and nearby stone fences.
Soon after the tower's construction, workers planted thousands of seedlings in the area to reforest the hill as it would have been in colonial times. Some of these seedlings have since become today's towering trees on Bowman's Hill.
In the early 1980s, the Bowman's Hill Tower underwent extensive restoration. An elevator was installed that can take you three quarters of the way to the top.  (although it still is necessary to climb the last 23 steps to reach the outside observation deck).
Check out Bowman's Hill Tower, and all the other great things to do at Visit Bucks County
To plan a stay with us, contact one of our Innkeepers
for accommodations at either:
HollyHedge Estate or The 1740 House
215.862.3136
215.297.5661
Share It!