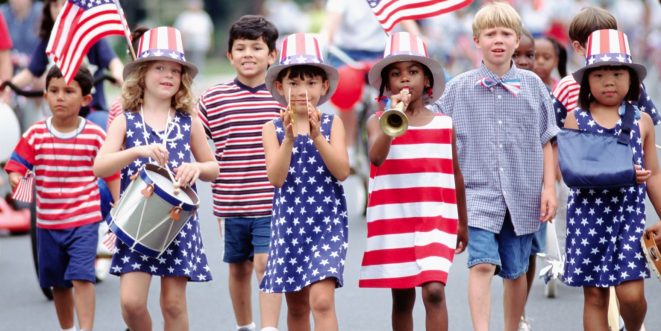 Perhaps nothing is more cherished by Americans, than Independence.
The word means different things to different people but the reason for our annual National Independence celebration marks the beginning of our National history.
During the hot days of June, 1776 in nearby Philadelphia's Carpenters Hall, our national Founding Fathers gathered to put forth the reasons for our separation from Britain and to discuss the values the new nation would establish. While it's obvious our history shows we fell short of those "self evident" truths, the subsequent Constitution and Bill of Rights helped to correct some of the shortcomings.
The First Celebration of Independence Day
The first anniversary of our Declaration of Independence, July 4, 1777 was celebrated in Philadelphia and spread throughout the new nation.
"Yesterday the 4th of July, being the Anniversary of the Independence of the United States of America, was celebrated in this city with demonstration of joy and festivity. About noon all the armed ships and gallies in the river were drawn up before the city, dressed in the gayest manner, with the colours of the United States and streamers displayed. At one o'clock, the yards being properly manned, they began the celebration of the day by a discharge of thirteen cannon from each of the ships, and one from each of the thirteen gallies, in honour of the Thirteen United States." –Virginia Gazette July 8, 1777
Enjoy these Local
2019 Celebrations
New Hope Pa & Lambertville, NJ
Date: Friday, July 5th
Time: Approximately 9:30 pm
The monthly display, which happens on the first Friday of the month, is sponsored by the Delaware River Towns Chamber of Commerce & Visitors Bureau. Another display will take place on Friday, August 2nd
Date: Saturday, June 29th
Time: 8:00 pm Concert and Fireworks
Address: Tinicum Park-River Road, Erwinna
Details: The event kicks off  with a concert under the Stars, followed by fireworks
Date: Thursday, July 4th
Time: Approximately 9:35 pm
Address: Klinger Middle School (1415 2nd St Pike, Southampton, PA 18966)
Details: A fair runs July 1 through July 6th
Date: Thursday, July 4th
Address: Quakertown's Memorial Park
Date: Sunday, July 7th
Time: Approximately 9:30 pm
Address: Central Park (425 Wells Road, Doylestown, PA, 18901)
Details: The event kicks off with a concert starring Bigg Romeo at 7 pm.
Date: Saturday, July 7th
Time: Approximately 9:15 pm
Address: Lenape Park (Rt. 152, Perkasie, PA, 18944)
Details: The all-day event kicks off around noon.
For a complete list of
Independence Day celebrations in Bucks County
Click Here
Share It!