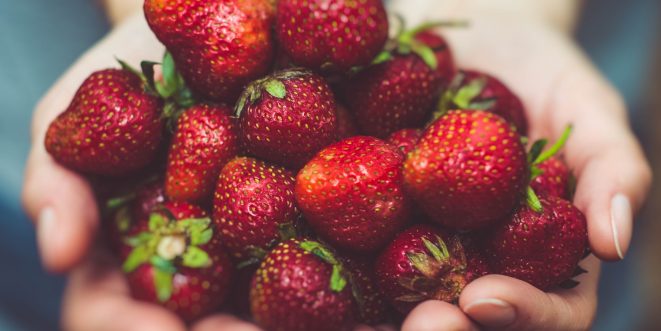 Strawberry Season is nearly upon us and our chefs can't wait to get a hold of the local bounty
for use in our bakery… Scones, Muffins, Breads and more! (one of our recipes below)
Bucks County celebrates with festivals and numerous Pick Your Own farms where memories are made, and the luscious red berries, abound for the picking.
By the pint, quart or pound,
Pick a field….
Get out and get some!
To plan a visit, contact one of our Innkeepers for accommodations at either;
HollyHedge Estate or the 1740 House
Pick Your Own Strawberries Farms:
Check these local farms to see when "the pickin' is right."
Manoff Market Gardens
New Hope, PA
Solly Farm
Ivyland, PA
None Such Farm
Buckingham, PA
Hellerick's Family Farm
Doylestown, PA
Healthy Strawberry Muffins
These Moist Healthy Strawberry Muffins are the perfect treat. They are dairy and refined sugar-free and filled with fresh juicy strawberries and whole grains – only 128 calories a serving and one of our favorites at the Inn.
 Ingredients
2 cups white whole wheat flour
1 teaspoon baking powder
1 teaspoon baking soda
1/2 teaspoon salt
1/2 teaspoon cinnamon
2 bananas, mashed
1/3 cup honey
1/4 cup unsweetened applesauce
1 egg
1 teaspoon vanilla extract
2 cups diced fresh strawberries
Instructions
Preheat oven to 350 degrees F.
Line a 12 count muffin pan with cupcake liners. Set aside.
To large bowl add white whole wheat flour, baking powder, baking soda, salt and cinnamon. Set aside.
To a small bowl add mashed banana, honey, unsweetened applesauce, egg and vanilla extract.
Using a spatula, combine all the wet ingredients.
Pour wet ingredients into dry ingredients and mix with a spatula until everything is combined.
Add in strawberries and gently mix
Fill each muffin tin 3/4 of the way full with the strawberry muffin batter.
Bake for 18-22 minutes, or until toothpick comes out clean.
Remove from oven and let rest for 5 minutes. ENJOY!
Share It!