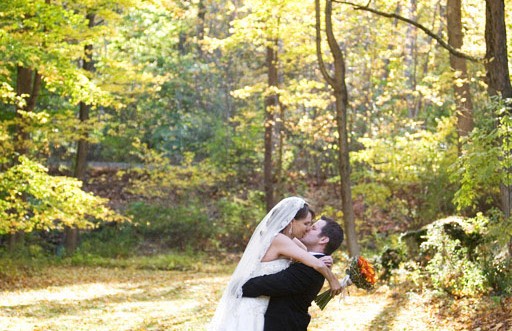 Weddings have always been about having fun. And, for a very long time, that meant generating a lot of waste. Weddings have historically been anything but environmentally friendly.  But, that doesn't have to be the case.  Over the last seven years, HollyHedge has been leading a push among wedding venues in Bucks County and around the region to develop more sustainable approaches to weddings.  And, in recent years, that seems to be increasingly popular with guests who are concerned about what the environmental footprint of their wedding will be.  Here are a couple of things that we've been doing to reduce the environmental impact of our weddings, along with a few tips that are perfect to make yours a green wedding of which you can be proud.
Solar Power.  HollyHedge installed a solar array that produces 20,000 kilowatt hours of power each year.  That energy production on the property helps off-set peak electrical use during large events like weddings. So, while you're partying and having fun, you can do so knowing that you're mitigating the use of fossil fuels in the production of electricity powering those amps or flood lights.
Composting.  Not surprisingly, preparing enough food for up to 200 wedding guests leaves a large amount of biomass that can be diverted from landfills and turned back into black gold in the form of compost.  Each kitchen on the property composts things like vegetables, fruits, egg shells, and coffee grinds that will be composted on the property.  That compost then helps rebuild the soil on the lands under cultivation, which leads to the next point.
Farm to table and locally-sourced food.  We're fortunate to have some great soil here at HollyHedge, and we try to grow a little something that we can be put onto every plate or into at least one dish during each event.  Whether it's fruits, preserves, vegetables, herbs, flowers, pickles or syrup from one of our sugar maples, we make every effort to provide fresh, locally-grown ingredients.  What we can't grow, we try to source through local farmers and vendors.  Not only does fresh food taste a whole lot better, but it reduces the carbon footprint needed for getting products to our kitchens and onto your plate.
Recycling.  It's one of the original principles of conservation that we were taught as kids, but it's still incredibly important.  We've been recycling things like glass, plastic, cardboard, and metal for years.  We're constantly looking for new ways to reduce the amount of waste that goes into the dumpster and landfills each year. In addition to biomass that can be composted, and the recycled products we separate, we also separate food items that can be used for hog feed, which is given to a local hog farmer rather than going into the trash.  A few years ago we also got involved in other recycling efforts for things like used cooking oil.  The oil that we save can be recycled and turned into biodiesel.  Scrap metal is saved and brought to scrap yards for recycling rather than being sent to landfills.   To date, we've had a ton of success (pardon the pun) of reducing our land-fill bound waste. Prior to making a concerted effort to separate all our waste and trash, we filled two dumpsters per week.  Now, in the last few years, we are able to keep our landfill destined trash to less than one dumpster per week.
Reusing and Repurposing.  Old properties like HollyHedge have a ton of charm…as well as, a lot of accumulated antiques and rubbish from the last 200 years.  Rather than throw a lot of things out, we look for ways to repurpose old items into new use.  Things like Mason jars can be reused into stylish cocktail glasses or, more traditionally, as preserve jars.  Trees that fall from heavy snow are stored and later milled in the warmer months – reused as serving trays, flooring, or rustic handrails or arbors around the property and garden.  Finding and repurposing old items can be a fun way to put your own stamp and style on your ceremony or reception. It's an ideal activity for do it yourself parties who want to save some money and find innovative uses for old stuff.
Embracing rustic chic. The best part of being in such an old place is that you can really embrace a classic aesthetic that marries together rustic, farm-style architecture with more modern design elements.  That offers brides and grooms a chance to use something old in everything they do.

Donate and Educate.  Gathering so many friends and families in one place is an opportunity to share with them the things you are passionate about.  If you have a favorite charity or environmental cause, a great party favor can be a donation made on behalf of your friends and family to that cause.  Or, ask your guests to make a donation in your honor to your favorite charity or environmental campaign in lieu of more traditional wedding presents.  Register with a charity that you love as part of the pre-wedding gift registration. And, take the opportunity to educate those who join you on your special day about the cause or environmental campaign that you hold dear.  Find a poet or writer who you love and let them be a part of the table scape – with select quotes from those conservationists or environmental writers of whom you are particularly fond. For a short while, you have the attention of all your friends and family, and you can ensure that your wedding has a lasting environmental impact.
If you'd like our team to help you plan your own green wedding in Bucks County, we'd love to help.
Share It!