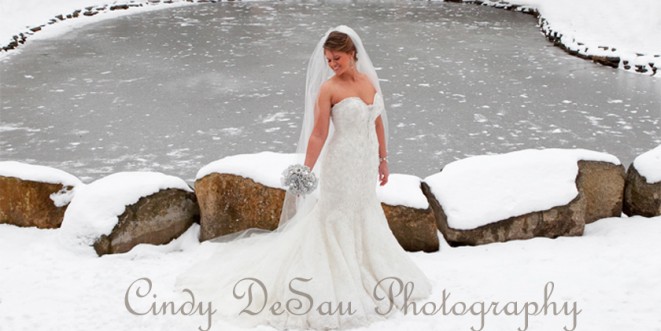 Check out our top reasons for having a winter wedding in Bucks County, Pennsylvania

Chance to Be Original
Many of the brides and grooms who come to HollyHedge are looking for a way to make their wedding unique. One of the best ways to make your wedding distinctly your own is to have it in a season not typically associated with weddings, and to take advantage of decorations, floral arrangements, and other accessories that are only available in the winter.
Turn Your Regular Wedding into a Wedding Weekend
When you choose a place like HollyHedge Estate – which has 15 guest rooms and a sister inn just down the road with 24 more rooms – you can make the most of the low-season and book the inn and rooms for multiple nights and make the entire estate your own for a long weekend. There are lots of activities in the New Hope area, such as the Lambertville-New Hope Winter Festival and the winter-long Peddler's Village Grand Illumination Festival that provide fun daytime and evening activities to share with friends and family.
Candles
Longer evenings mean romantic, candlelit dinners surrounded by family and friends. There are few wedding venues in Bucks County which are as romantic and picturesque as our old barn decorated with candles in the winter.
Fun Winter Activities
Nothing screams wedding like a snowball fight (check out this bride and groom going at it)…well maybe not. But, it does capture the spirit of the season and offer you and your guests a fun way to maximize activities that just aren't possible in other seasons. Whether it's sledding, snowshoeing, or cuddling up beside a fire – winter offers lots of special activities for brides, grooms and their guests that are only possible for a limited time each year.
Gorgeous Pictures
Winter snow creates a dramatic, elegant backdrop for wedding photos. Check out shots from our previous winter weddings. Cooler temperatures, less intense mid and late day sun, and lower humidity mean you won't be sweating or having to fix running makeup during photo sessions. Also, did we mention how cool snow looks in the background?
Fireside Comfort
There are few things as romantic and intimately cozy as getting married beside the hearth. And we mean a hearth – a legendary fireplace that is massive and rarely built in modern homes. A number of buildings – including the Old Barn – have original hearths from the 18th Century. They're massive, elegant, and cozy as all get out, offering a perfect backdrop for a wedding ceremony or reception.
Chance to Brush Off the Snow and Shake Things Up!
Your guests, family, and friends will all be super excited to attend a celebration in the middle of winter. Nothing breaks up the doldrums of the winter season quite like celebrating the love and commitment between two people. Everyone loves a little warmth amidst the cold. Brides and grooms report that there is far better attendance and less attrition for weddings held in what is typically believed to be the low season. Prepare yourself, though, your guests may want to party late into the night…not that that's a bad thing.
More Choices and Greater Vendor Availability
Even the hard-to-get vendors and venues have more availability during the "low-season". You will have a better choice of vendors like DJs, Bands, and Photographers who may have much greater demand for their services in the high-season. With less weddings, you can be more selective and find that perfect venue or vendor who you may not be able to find in the traditional wedding seasons. Check out our partner vendors for ideas and contacts.
Winter Menu – Yummmmmmmm!
HollyHedge loves to mix up its menu on a seasonal basis. And, when late Fall and Winter come around, that means lots and lots of delicious comfort food. Once your guests arrive, they can be greeted by seasonal, signature cocktails like mulled wine or hot apple cider. Stationary hors d'ouevres like our popular mashed potato bar can be accompanied by passed dishes like lobster mac-n- cheese and a soup & sandwich duet (grilled cheese with shots of tomato soup) to make guests feel like they are at an intimate party at a friend's home. The seasonal menu doesn't stop there – we can serve up entrees like French-style Chicken stuffed with cranberries, apples and walnuts or a pumpkin ravioli with a sage-brown butter sauce that bring a sophisticated, restaurant-quality food to your dinner reception. For dessert, finish things off with a sweet, warm apple cake with caramel rum sauce or a decadent red velvet wedding cake with cream cheese icing. Getting hungry yet?
And…the PRICE!
Yup, that's probably the best part. Here's an industry secret – the winter season means you can negotiate much more for each part of your wedding. Most venues typically discount their high-season rates by as much as 15-20%. For those who love a particular venue, but aren't comfortable stretching their budget to get the most popular dates, then doing your wedding in the low-season can mean a much more budget-friendly experience. The cooler months bring lower prices. And, with more availability, that means you have much more flexibility in planning your dream wedding at an affordable price.
Let HollyHedge help you begin planning your perfect winter wedding today!
Share It!