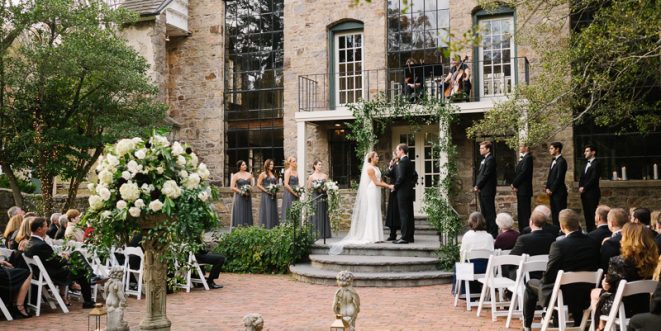 Top Historic Barn Wedding Venues in United State
HollyHedge is so excited to have been chosen as one of the most charming, historic barn wedding venues in the US by Rusticbride.com.  HollyHedge's Old Stone Barn was built in the late 1700s from original Bucks County Field Stones. It is a classic example of the bank-barn style. Rare in that it is built entirely of stone. Over the years the Old Stone Barn has been used as a working barn for livestock and hay storage. It was then converted during the Gilded Age as an entertainment space for the then Editor of the Trenton Time. Later it housed a performing arts space in the 1960s and 70s. In the 1990s, it became part of the Inn at HollyHedge and made into one of the country's top spaces for rustic weddings. Today, the Old Stone Barn provides a gorgeous backdrop and canvas for wedding ceremonies, and functions as the center of cocktail parties at the Estate. We are so proud of the history of the Estate and our many efforts at preserving the buildings and property.
Check out more pictures of the Estate here.  Or click here if you're interested in planning your own wedding at the Estate.
Share It!